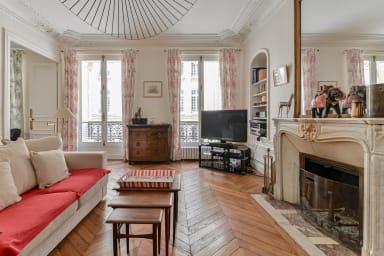 Florence St. Lazare 2 bedroom apartment
Appartement à Champs Elysées, .8th Champs Elysees
---
4

Couchages

2

Chambres

1

Salle de bain

120m²
Spacious two bedroom apartment in a perfect location to explore the city of lights.
The streets surrounding this apartment makes it a great option for travellers looking to explore Paris. The feel of the neighbourhood comes with plenty of charming shopping, dining, and parks to discover. Have a look at the produce on offer at the weekly outdoor organic market, walk to the stately Parc Monceau, and check out the boutiques and cafés dotting the neighborhood. Or hop on the metro and visit the sights! The apartment is located just a minute walk away from the Rome station on subway line 2, which goes straight to the Champs Elysées and Arc de Triomphe in approximately 10 minutes, or the Porte de Clichy station on subway line 13, which also goes straight to the Champs Elysées in approximately 10 minutes, plus the Rodin Museum and Invalides monument in 15 minutes, and to Montparnasse in about 20 minutes. Using the subway, arrive at the Louvre in 30 minutes, Montmartre in 25 minutes, and the Eiffel Tower or the Marais in 25 minutes. Buses 66, 31, 81, 54, and 74 provide additional public transit service to the apartment.
We are awaiting your email inquiry, so please contact us anytime with questions. We look forward to welcoming you soon and helping you feel at home here in Paris!
PLEASE NOTE: All of our apartments are cleaned and sanitized between guests with professional-grade cleaning products.
In case you arrive after the standard check in time (9pm), you are required to pay 30€ late check in fee to the greeter.
All the important information - in the most convenient way!
Closer to your arrival date you will receive an email with a link to a pre check-in wizard to finish all the latest coordination for the check-in, and gain access to your personal space and guidebook for your stay. As soon as you have confirmed your travel information (both arrival and departure), we invite you to share it with us so that we can organise our schedules.
Important
For any updates in the reservation or special requests, please contact us as soon as you can, and we will do our best to assist.
Please Read this important information below.
STANDARD CHECK-IN TIME is from 3 pm to 9pm. Thank you for your understanding.
Midnight is the latest possible check in time because our greeters have no means getting home after that.
CHECK-OUT PROCEDURE: standard check-out time is 10 am, meaning all guests and luggage must be out of the apartment by this time. If you have a late departure and want to ensure availability, we advise booking the apartment for an extra night if available. Guests are asked to please leave the apartment in a tidy condition by removing all trash and recyclables, placing all used bed linens and towels in the bathroom and ensuring that all dishes and kitchen wear are washed and put away.
You greeter might encounter delays in which case he/she will need to contact you, so please ensure that you have given contact telephone information. This may be due to a previous guest being delayed or having to respect another guests check-in time whilst managing to your transport delay. In which case, it is important that you are able to contact each other and schedule a new meeting time. If you have to wait, we suggest you go to a nearby café or restaurant so that you are comfortable until your greeter arrives.
Our preferred means of contact (free calls/texts) is via an application. If you don't already have it, we suggest you download it as WIFI is widely available in most cafés and fast food places. Both at airports and train stations you are allowed 1h free internet connection.
GUARANTEED EARLY CHECK-IN: the only way to guarantee access to a fully cleaned and prepared apartment for morning arrivals is to reserve the night before your scheduled arrival day. Please inquire now if you need to add a night to your reservation.
MAXIMUM NUMBER OF GUESTS: the number of guests specified and agreed to in emails between the guest and United Services Company shall not be exceeded under any circumstance. If we find you have more guests in the apartment than agreed to originally, you will forfeit your full damage deposit and we reserve the right to terminate the rental immediately as well as this rental agreement.
LOST OR FORGOTTEN OBJECTS: please note that we are not responsible for any objects that may be left behind in the property. You are 100% liable for all your personal belongings.
NO-SMOKING: there is absolutely no smoking allowed inside the apartment. Smoking inside the apartment will result in forfeit of the damage deposit and potential other costs for cleaning or damages.
PETS: due to guest allergies, pets are not allowed inside the apartment.
KEYS: apartment door keys and locks are extremely expensive and should be treated with the utmost care.
Many key replacement costs are over 200€. All key replacements, lock-out and locksmith charges are payable by the renter. Please never leave a door key in the lock on the inside when leaving the apartment; you may be locked out, even with the second door key.
LOCK-OUT FEE: 50€ (applies only to situations where a locksmith is not required and the greeter comes to the apartment to unlock the door for you). Locksmith charges for any lock damages or problems are at the expense of the renter and payable directly to the locksmith.
NOISE/COMPLAINTS: we respect our neighbors, and we ask you to do the same, please. You are a guest in the apartment, but you are also a guest in the building. Please be aware of noise and be respectful to your neighbors (take off your shoes in the apartment, no loud music, no parties/events, etc.). In the case that a neighbor in the building complains about the behavior of a guest, this shall be deemed a violation of the terms of this contract; the contract shall then be considered void, you will be asked to leave immediately, and will not receive any refund.
LIABILITY: you agree to hold harmless the owner and the agents of the owner from any and all damage, injury, loss, expense, claim, action or liability of any kind whatsoever or howsoever caused including, without limitation, a claim of any kind by any member of the guest party (including those of minor children), which arise from or relates in any way to the use or occupation of the property by the guest, members of the guest party, or by invitees of the guest. The guest is responsible for any damage of any kind to the property caused or contributed to by the guest, members of the guest party, or by invitees of the guest. The fact that children are permitted on the property does not imply that the property is without risk to children. By accepting this reservation, it is agreed that all guests are expressly assuming the risk of any harm arising from their use of the premises or others whom they invite to use the premises.
In the event of a dispute between us, we agree to resolve it by negotiation.
No yelling or making noise. Guests who make noise may be required to pay a fine of 300 euros.
Thank you for your understanding.
+ Plus
- Less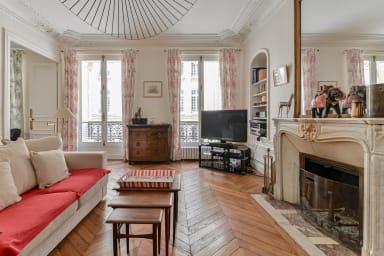 Le Logement
Capacité d'accueil: 4
Chambres: 2
Salles de bain: 1
Type de propriété: Appartement
Arrivée: 17:00
Départ: 12:00
---
Delphine M.

nice stay in Paris

lovely and calm apartment well located in Paris. rooms are spacious and the area provides all needed services. mattress in the second bedroom is a bit too hard. the rest is perfect.

Novembre 2022

---
280 €

→

336 €

/ nuit
Réserver maintenant